Mobile Incinerator
Mobile incinerator mod. EXCE MB are designed to be installed on trailer or on truck beds or in a container, even of small dimensions, in order to make an incineration immediate intervention possible directly in the place of production of the waste.
Equipped with power generator and fuel tank, the mobile unit can independently work even in very isolated pla-ces. It is suitable for the safe disposal of both highly infectious hospital waste and animal carcasses.
Easy to use – It does not require any specialized technician.
Environment friendly – Thanks to its post-combustion system, the gases will undergo an intensive purification process before being relea-sed into the atmosphere.
Safe and clean – The waste will be completely destroyed at the production place, avoiding ma-nipulations and displacements.
Low costs of management and operation – Main-tenance is simple and inexpensive, and the ope-ration cost is limited to the used fuel.
Efficient solution – It is the right solution for highly infectious hospital departments, small clinics and dialysis centers or small farms.
Quick and easy to install – The start-up takes few minutes.
Fully independent working – Equipped with power generator and fuel tank.
Available in different versions – with destructive capacities ranging from 10 to 350 kg/h.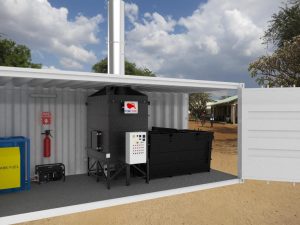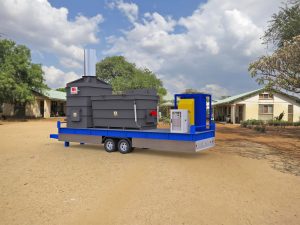 Back to news